Integrated Display Systems
Transform the way information is communicated across your facility with the IDS IP-based display system.
More than digital signage, IDS is a genuine two-way system that receives information, and through simple conditional programming it can provide a sophisticated level of facility control.
And with the new Remora +, users can now display content on 4K screens, thanks to the high video processing capacity of the new processor.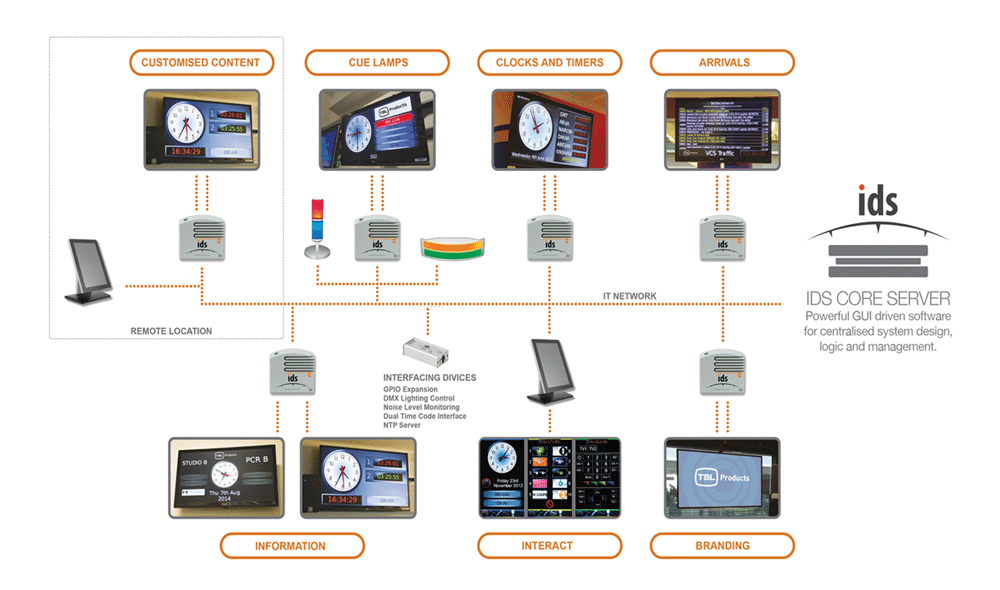 Building Blocks

Core: At the heart of IDS is our configuration software, IDS Core. Designed in-house by our team of dedicated engineers and based on a Linux Kernel, it provides a stable environment on any server, enabling you to work locally and remotely.
IDS Screen Designer's intuitive drag-and-drop interface lets you create and save any number of informative display layouts. Customise clocks and cue lights or create your own control interfaces. Choose from a rich array of design elements, including video feeds, web pages and countdown timers and create a libary of your own image fi les and logos.

IDS Logic Builder takes your screen designs and lets you map their virtual inputs and outputs to real GPI signals, video feeds and time signals, by routing them to physical ports on IDS hardware and other third-party devices. The built-in logic functions, signal manipulation elements and I/O controls provide endless possibilities for logic maps to drive your displays.

The Remora can deliver full HD and allows you to turn any display (with an HDMI input) into an IDS controlled display. The remora is completely silent – making it ideal for noise sensitive environment – synchronises to NTP to deliver time-critical content and simply mounts to the back of the display.
The TouchScreen is a display as well as a user-friendly interface to the IDS system. The Touchscreen typically sits at the heart of a room and allows dynamic control over any of the connected devices such as displays or I/O boxes.
Lamps For positions where a simple multi-coloured lamp is all that is required we have the IDS lamps which are available in 3 different models: Dual Wall Lamp, Single Table Lamp and Dual Table Lamp. These lamps connect to the IDS system over IP and are powered via PoE (Power over Ethernet).
I/O Boxes The functionality of any IDS system can be extended by adding IDS I/O boxes. These I/O boxes can add functionality such as GPIO expansion, infra-red device control, network time synchronisation, DMX lighting control:
The Squid A versatile 1U expansion unit with GPIOs (32 opto-isolated inputs and 32 relay outputs), an LTC interface which connects to the IDS system over IP. For resilience it also boasts hot-swappable redundant power supplies.
The Squidlets There are a total of 6 small form factor squidlets offering a wide range of functionality. All are connected to the IDS system over IP and are powered via PoE.