Flex Control Network is a modular platform of professional IP-based machine controllers. The Flex platform consists of 25 types of intelligent devices and interfaces that can combine to create systems for solving even the most complex control problems.
Customized combinations of Flex products create an infrastructure that delivers both centralized and distributed control over machinery and workflows in any industry or scenario. With its advanced design and secure embedded OS, Flex is unlike anything on the market.
Flex offers infinite possibilities for controlling, monitoring, and managing networked devices over LAN, WAN, and the Internet. With Flex, you can control almost anything in your facility from anywhere in the world using the Web services from your computer, tablet, smartphone, or any other Web-enabled device. No one offers more advanced capabilities or custom functionality for integrating your products and workflows, and we're always there to assist with system design and technical support.
Flex Control Network unleashes more power than ever for integrating production equipment, workflows, and the multitude of playout platforms. With Flex's native Web-based configuration interfaces, wide range of tactile control surfaces, and onboard bridging of control technologies, it affords vast new, more affordable ways to meet your control challenges head-on. Whether you are replacing an impossible-to-support custom solution, extending the life of your equipment, or integrating sophisticated control with multi-format delivery, the Flex Control Network is the cost-effective solution you need.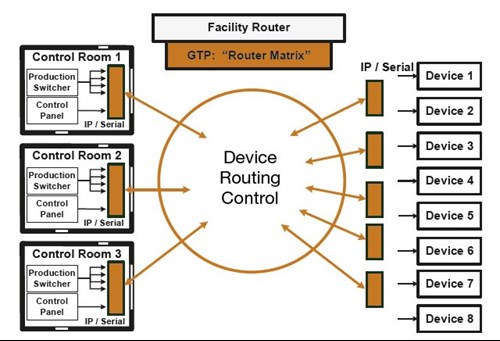 The Business of Flex
Flex Control Network provides a complete control and connectivity infrastructure that:
Integrates with existing equipment, protecting equipment investments
Incorporates new equipment and technological advances to streamline processes and increase efficiencies, minimizing expenses and increasing profitability
Maintains tried and proven existing workflows and integrates new workflows that support time-accurate delivery of quality product, maximizing staff productivity and training efficiency
Improves system reliability, supports system expansion, and simplifies system maintenance while minimizing short-term and long-term cost of ownership
Fits your application and budget
Gives you peace of mind − no more custom boxes, hand-built relay systems, one-off kluged solutions, or custom software
Flex Control Network can be designed and configured for your specific needs.
Innovation for Flexibility and Efficiency
Today's media facilities comprise more disparate technology than ever before, and all these systems need to be networked, managed, and controlled in fundamentally new ways. Designed for enhanced scalability, the Ethernet-based Flex Control Network is engineered from the ground up for easy integration. You can easily add control resources on-site or remotely via the network without rewriting code or rebooting the system. The result is highly reliable performance and dramatically simplified upgradability with minimal downtime, you scale and adapt the system as your requirements change.
More than a mere controller, Flex Control Network represents a distinctively robust, dynamic, and secure infrastructure to elevate your system designs to higher levels of performance and reliability. Compared to other control systems, Flex provides a pronounced increase in processing power and speed with rock-solid networking and IP operation, and a unique modular distributed architecture for responsive real-time control.
Control Made Easy
Flex consists of a wide variety of intelligent devices and interfaces for controlling
production playout systems, multiviewers, routers, video switches, production switchers, camera/on-air tallies, master control switchers, and more. The Flex Control Network offers hardware-based tactile control surfaces, browser-based interfaces for ease of use and deployment, and simple push-button operation for sophisticated, automated control.
Control Your Whole Facility From Anywhere
Manage any device via RS232, RS422, GPI/O, SNMP, UDP, TCP/IP, LAN, WAN, VPN, and Internet. Because you can control all your equipment from the same room, between floors, across campus buildings, or around the world, Flex links geographically separated facilities and connects countries
This exclusive point-to-point and shared control structure permits easy redistribution of your broadcast, production, or automation workload for staffing flexibility. Operators and supervisors can manage the same device, and quickly and easily change control locations for one-time, special, and remote events.
Flex Control Network is deployed at leading broadcasters and production facilities around the world, including ABC, CBS, FOX, NBC, HBO, CNN, TURNER, ESPN, Fox News, MLB Cable, TV GLOBO, RAI, NBC Olympics, and more.

POWERED BY THE GTP-32 CONTROL PROCESSOR
The GTP-32 Processor drives the interfaces between the control system and existing newsroom systems, offering shared control between positions and facilities. The GTP-32 allows you to set up secondary events and triggers that can be configured to make your systems even more powerful.

VIEW PRODUCT SPECS
---
GTP-V1
Virtual & Cloud-based Control
---
GTP-30
IP Integration with Network Control
---
GTP-31
Facility Transition with IP & Serial control