Confidence Audio Monitoring

Meet the MPA1 Solo and Mix SDI
Our class-leading MPA1 Solo / Mix SDI unit provides a cost-effective and easy to use audio monitoring solution for use in SD, HD and 3G-SDI environments.
Built on years of global broadcast audio expertise, the powerful and intuitive MPA1 Solo / Mix SDI presents users with instant 'at-a-glance' notification of all 16 SDI Embedded Audio Channels on its front panel display, as well as those derived from its dedicated AES and Analog inputs.
The MPA1 Solo SDI features unique 'scroll to hear' function that allows users to scroll through all available audio channels, either individually or as pairs, whilst the Video Select feature allows the front panel display to be switched between audio metering and video display modes.
The MPA1 Mix SDI provides users with an intuitive yet flexible audio monitoring tool that enables quick and easy creation of audio monitor mixes comprised of embedded SDI audio, AES and analogue audio sources.
As a member of the MPA1 Range of audio monitoring products, the MPA SOLO SDI comes complete with a comprehensive and simple to use web-gui allowing remote configuration, management and control.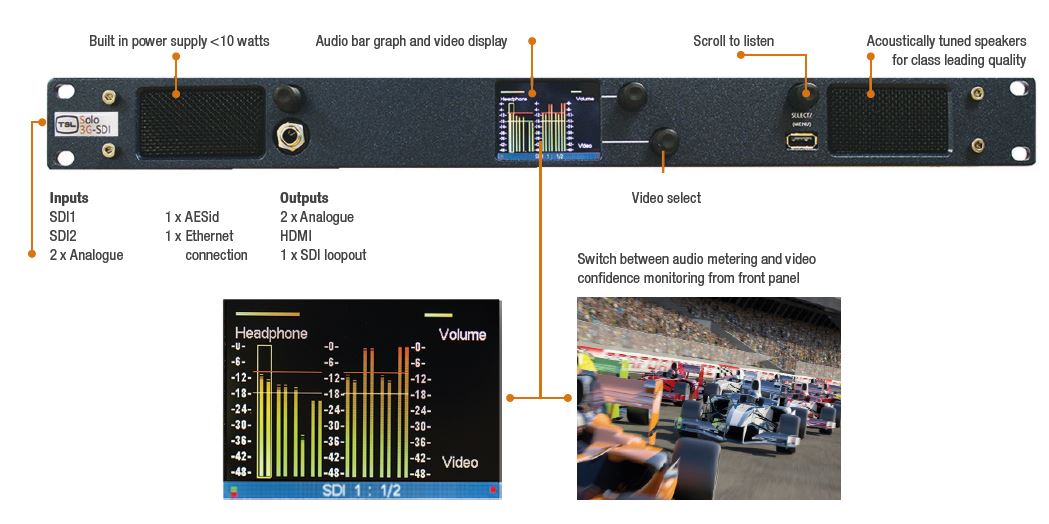 Compact monitoring for any application
3G/HD/SD-SDI, Danté, MADI, AES and Analog audio interfaces are all catered for by the MPA1 Range of Audio Monitoring Products.
Whilst MPA1 SOLO products provide the simplest of audio monitoring solutions, MPA1 MIX products allow users to defi ne their own monitor mix by allowing multiple audio sources to be mixed together.
Compact and Lightweight – All MPA 1 products share the same 1RU form factor at only 100mm deep and are ideally suited for those environments where space and weight is a premium, such as OB Trucks, Flyaways, SNG and ENG Trucks.


TSL 'DNA' – All MPA1 products benefit from TSL's significant history and experience in developing professional audio monitoring products for use in the most demanding of broadcast environments.


Ease of Use – Offering both simple and intuitive control, the MPA1 range of products have been designed to enable the smoothest of workflows for operators and engineers working in high pressure environments such as live production.


Web GUI - All MPA1 products can be configured, controlled and monitored via a web interface. Facility wide management of all MPA1 products is now possible from a single desktop PC.


SNMP monitoring and control for remote management by TSL Products' TallyMan or other SNMP management systems - a free download to existing customers.
The combination of interface types, differing workflows and ease of use, provide a range of comprehensive and flexible audio monitoring solutions suitable for use in all environments.