IP Audio and Video Monitoring
Meet the New PAM IP - The only device in the world capable of monitoring uncompressed audio and video for SMPTE 2022-6 and 2110 networks.
Over 50 PAM-IP units have been shipped to broadcasters worldwide, including CCTV and BCE Luxembourg. Read more here >>
Regardless of the input format the PAM-IP lives up to its PAM name and offers functionality such as loudness measurement, accurate fully configurable metering and multi-channel monitoring as standard with Dolby decoding available as an optional extra.

Video, audio and its associated metadata can be monitored from either a traditional SDI source or a S2022-6 IP stream. This makes it ideally suited to a hybrid environment where SDI, AES and analogue exists alongside IP-based infrastructure.
Now featuring 10Gig/E interfaces for direct connectivity into IP facilities, monitor any of the inputs available on your PAM-IP by simply switching presets.

MPA1 Dante monitors are now AES-67 compliant
Specifically designed for use where operators need to create a custom mix from a DANTE stream. With powerful user features accessible via the web UI, the MPA MIX Dante is simple to use and flexible enough to meet specific and demanding workflow requirements.
The MPA1 Dante confidence monitoring series now include support of AES-67 (and thereby further support for Ravenna and Hydra2 networks). AES-67 defines the IP audio transport layer in SMPTE 2110.


Addressing the challenges of IP for audio
With customers now realising the benefits of IP infrastructures using SMPTE 2022-6 and the soon to be ratified SMPTE 2110, what does this mean for those needing to manage and monitor audio?
Audio should not add to your worries when making the transition to IP and operational processes should not be compromised. The transition to IP should allow for new efficiencies that can be implemented in ways that are both intuitive and familiar. With open standards now available to the industry and being implemented by an ever-increasing number of manufacturers, users will be able to choose best of breed components, with the same level of confidence that we have all enjoyed when working with SDI.
A key challenge for any audio solution is to create and present an operational experience that is both simple and intuitive, regardless of the method being used to carry audio throughout a broadcast facility. The transition to IP infrastructures, coupled with the need to do more with less, only serves to increase the importance of being able to address this challenge.
At the very least, operators needing to manage and monitor audio within an IP infrastructure, need a set of quick and easy to use controls that:
are made available by a friendly and intuitive control interface
will allow them to monitor and manipulate audio in the same manner that they have grown used to when working in traditional SDI environments
When considering an IP audio monitoring device, its basic functionality, such as the need to display audio levels, present audio metadata, support Dolby audio formats and to monitor audio loudness, remains much the same as when using an audio monitoring device to monitor audio presented as an SDI, AES, MADI or Analogue source. Similarly, the very nature of the tasks an operator will need to perform remain all too familiar.
However, whilst it may be preferable for IP audio monitoring devices to retain a familiar operational experience, the very nature of an IP infrastructure allows for a new breed of audio monitoring device, one that can take full advantage of the benefits inherent in an IP infrastructure. The potential for an audio monitoring device to subscribe to any multicast stream made available by the network and even to generate and present multicast streams of its own, begins to present customers with the kind of operational efficiency that could not be considered until now.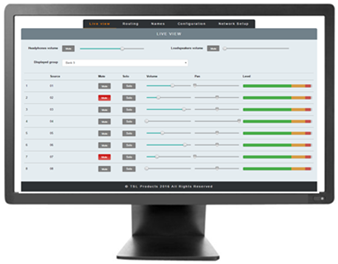 Adoption of SMPTE standards
SMPTE 2022-6 has already allowed early adopters to deploy IP infrastructures and begin realising operational efficiencies such as these and with the arrival SMPTE 2110 providing an 'essence based' approach, by separating audio, video and metadata into separate streams, customers will not only able to make far more efficient use of the available bandwidth across their network, they will also be able to achieve the business goals of the organisation through simpler, more logical workflows.
Within SMPTE 2110, the use of the AES67 open standard for the carriage of PCM audio means that some Audio over IP devices may already be suitable for use within a SMPTE 2110 IP network. Whilst AES67 looks set to be the preferred AoIP standard for the foreseeable future, TSL also see the importance to continue the development and support for AoIP solutions for use on Dante networks.
What about video monitoring?
Whilst audio remains our primary concern, our customers have told us that they value the ability to monitor video within our audio monitoring devices. As well as providing confidence monitoring, the ability to monitor the video is clearly vital when an operator wishes to check for issues such as lip sync. To this end, TSL audio products will support the full suite of SMPTE 2110, not just SMPTE 2110-30.