Powerful Tools for Studio Production
In many facilities, the central control room is not located in the same area as the studio. Often, production staff are forced to run between the control room and remote studios or auditoriums, executing tasks as simple of turning the projectors or cameras on and off.
Much like Virtual Panels, button panels can provide centralised triggers that require very little production expertise. A button panel can be configured to essentially brings the device's control panel to the user, making it much easier to send serial commands to the equipment.
The standalone ability of these panels is a huge benefit, as any similar product on the market requires a PC or computer nearby, running an application to fire off remote triggers. With just the one box, TSL's IP Control Buddy can manage all communication protocols and methods right there in one system.
"We have the IP Control Buddy configured and living locally on campus, but we also have the ability to connect it via a VPN from a remote location, such as my house. Acquiring the IP Control Buddy has significantly upgraded our ability for remote production." In addition to controlling projectors, button panels can be used to trigger a whole range of kit, including recorders.
"All of our campuses are within an hour drive of each other, and we often share recorded services, or other audio or video files, between campuses. We also like to have a hard piece of media to travel with as a backup option in case we had a situation where the internet is down. All five of our campuses have a record deck, and we wanted to be able to control all of the units from one location.
With the IP Control Buddy, we can start/stop all five recorders with a single button push. While everything is recording simultaneously; we are provided with status updates along the way to confirm that the recordings were completed successfully."
The IP Control Buddy, and all of TSL's button panels help to dilute multiple tasks down into one. This solves the manpower issue of having personnel in place at each location. As rack-mounted units, the IP Control Buddy can be placed in to an existing rack alongside other controllers.
There was a cool little trick that we had on some of the recorders that when we power off our control room, the devices go back into their original input state and then, through the IP Control Buddy, we would be able to program a startup sequence.
We were able to assign the video and audio inputs and then trigger the remote-control ability, all with the push of a button, as opposed to going to each deck to configure it individually. Without the IP Control Buddy, we are less sustainable and less efficient as a production crew.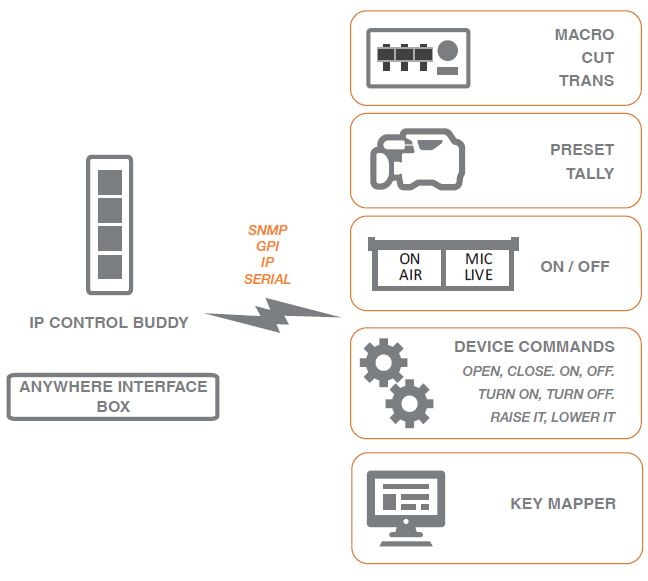 With one easy-to-use, affordable solution, we have a quick way to accomplish our goals. Gone are the days of running out into the auditorium, waving a remote around and pushing all of the buttons to configure devices. It's apparent that TSL Products is dedicated to providing customers with solutions that make their jobs easier, and that's exactly what the IP Control Buddy does for the production crew at Central Christian Church.
The TSL team is available and approachable, a pleasure to work with and always willing to go the extra mile help us if we have any questions. We've resolved multiple production challenges since acquiring TSL's IP Control Buddy, and we can't wait to see what else it can do!