Empowering Our Customers to Take Full Ownership of Their Systems
Our recent acquisition of DNF Controls brings together 60+years of control expertise to provide an opportunity to offer audio and power solutions locally to the Americas and to expand our control capabilities. With increasing demands on resources, budgets, and the rapid adoption of IP and remote production, it is more essential now than ever for control systems to be able to hide underlying system complexities so that operators can remain focused on making great content.
DNF and TSL both had a strong control offering, where much of our product lines compliment rather than compete. This means, that with immediate effect, TSL customers can benefit from expanded functionality including:
Dynamic device control routing - Provide access to and control over a pool of critical playout and branding devices from multiple control points with dynamic control allocation.
Plug and play interfaces and buttons panels now with conditional logic and support for restful APIs for simple and easy device control.
MOS Integration with ENPS and iNews that simplifies production automation and provides control over the critical devices you depend upon, via GPI/O, Serial or IP.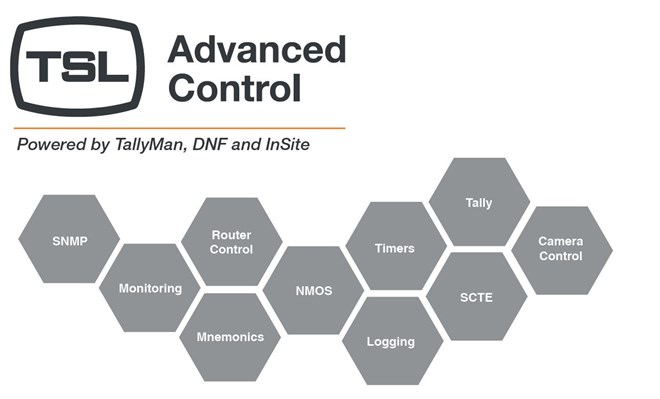 Complete Control From Production to Playout
OB Trucks 
Fully configuring outside broadcast trucks is made simple and efficient with one-button touch to set devices, whilst sharing and managing resources between systems to save time, space and money.  
Functions:  
Camera assign – Assign camera names to CCUs effortlessly. 
Joystick multiplexing – Use fewer RCPs to control multiple cameras and assign cameras to RCPs on the fly. 
Video/audio routing – Routing control over video and audio routers.  Single cross point, associated sources, and salvos.    
Tally management – Complete scalable tally solution across multiple OB trucks. 
Remote Production 
The continuing pressure on production budgets will accelerate the deployment of remote production solutions – for example news, especially in scenarios where it is lower cost or just safer to have engineering and production staff remote from the news studio, or where saving the cost of sending out an OB is attractive. 
Functions:  
Studio preset management (Save/Recall) – Save and recall complete studio configurations including camera positions/parameters, lighting scenes, routing tables and more. 
Studio delegation – Assign studios to PCRs with associated routing, tally and control following assignment. 
PTZ camera control – Complete control over PTZ cameras for granular control, preset set/recall and tally control.
Lighting control – Set and recall scenes of a lighting mixer and adjust levels via hardware or virtual control panels.
Audio control (Mic gain, IFB, routing) – Control over audio routing and channel controls for remote control, studio preset set/recall and back-up control. 
Video routing (confidence monitoring, branding) – Routing and naming control, single cross point, associated sources, and salvos for studio presets. 
VoIP control (Dial/Make/End call) – Use TMVP to dial, make and end VoIP calls. 
Tally management - Complete scalable tally solution across multiple routers, switchers, cameras and multiviewers. 
Sports Production 
Repackage fast-action production steps into pre-defined commands long before an event and automate multi-step processes into single functions, saving those essential milliseconds to instead deliver a high-quality viewer experience.  
Functions:  
Camera-person trigger alerting and routing for fast action capture – Trigger that fires a custom tally to alert the CR of an interesting or developing shot or even take the shot direct to air. 
Commentator information panel showing live streams and local foldback control – Using TMVP, to display relevant program information, routing control of local audio/video feed and display multiple live streams. 
Location/Programme presets - Save/recall routing and setup for a venue or event dramatically reducing setup time all using single button actions. 
Studios 
Centralise resources available in all studios across the production chain via a simple touch interface and take control of key studio functions, set studio failover pre-sets to automatically reassign resources. 
Functions:  
Single button studio set-up (Programme presets) – Set/recall complete routing tables, equipment configurations and scenes to allow one button studio setup reducing setup time and complexity. 
Studio delegation - Assign studios to PCRs with associated routing, tally and control following assignment. 
'One touch' studio fail over – Push or pull studio setup across to different PCR in case of control room malfunction. 
Manufacturer agnostic control – Consistent user experience to control multiple manufacturers equipment using different communications and protocols. 
IP Device Routing
The transition to IP creates many new complexities for operators and drives the requirement for detailed yet simplified real-time signal flow management. By providing a universal tool that talks to a wide range of different manufactures and devices, operators can work from a single point of entry for signal flow and routing control that streamlines workflows and brings about substantial cost savings.
TSL's control solutions provide a simple and intuitive interface that translates IP workflows to retain the familiarity of SDI routing. We were proud to be able to demonstrate this as part of Ideal System's complete IP workflow set up at Broadcast Asia, where our products provided signal control for IP routing of edge devices.

System Architecture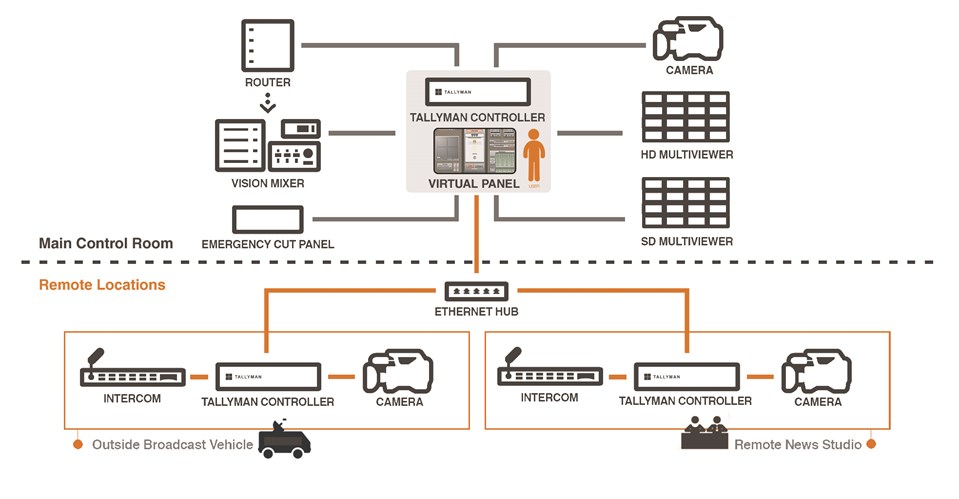 Powerful Third Party Interfaces
New protocols are added to TallyMan as they become available. TallyMan interfaces to all known switchers, routers and multiviewers and is supplied with all the protocols to interface provide the up most flexibility and allowing you to choose best of breed and best fit with confidence.  
> View supported common protocols here

Did You Know?
Our control systems can integrate with our MPA1 Audio monitors via SNMP, and PAM-IP range via Ember+, as well as InSite management software to monitoring alarm triggers for any device within the system? Find out more...

Virtual Panels – Gain unlimited control of your broadcast system
Whether the application is in production, remote broadcasting or playout, bringing complex systems under a single point of control minimises operational complexity and ensures staff deliver high quality outputs with minimal risk of error.
The easiest way to achieve this is by using virtual panels to:
Maintain clear and intuitive actions for the operator
Present just the controls they need
Customise design for best fit individual processes
Create common interfaces