SAM-Q-SDI - Choose How You Want To Work
Built on the SAM-Q platform, the SAM-Q-SDI brings the freedom to monitor SDI, AES and Analogue audio sources with maximum operational efficiency, offering multiple modes and up-gradable licences within one unit, ensuring that you get the most value out of your investment.
Configured specifically to address the needs of different applications, skillets and workflows.
Engineers and supervisors can restrict sources, modes and front panel functions to streamline operation and reduce user error.
A feature set that can change with your requirements, including optional MADI support or Loudness Monitoring.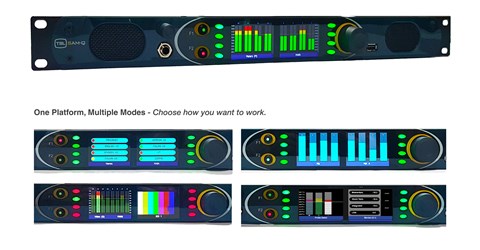 ---
Modes of Operation
Meter Modes - A traditional audio meter mode, displaying 16 Audio Level Meters view with single and multiple audio channel selection.
Video Modes - 16 Audio Level Meters with single and multiple channel selection complete with video confidence display.
Mix Mode - A graphical representation showing the relative mix levels of up to 16 channels of audio, complete with Mix channel selection.
Names Mode - Displays the source names of 8 audio pairs, with audio presence displays, complete with multiple channel monitoring selection.
Phase Metering Mode - allows one audio source to be selected, monitored and checked for audio phase & displays 16 Audio Level Meters + 1 Phase Meter.
---
Feature Set
Permissions - Audio monitoring sources and functions can be included/excluded based on your Application, Skillset or Workflow.
Preference - View, select and measure audio using your preferred mode of operation.
Protection - Protect your SAM-Q configuration using a PIN code.
Potential - With optional licenses, the feature set of your SAM-Q can grow over time
View the SAM-Q-SDI >
---
Additional Licences
The latest release includes the brand-new audio phase metering mode included as standard, plus additional functions that can be purchased separately and installed as a licenses.
Loudness Monitoring Mode - 8 independent loudness probes, providing Short-Term, Momentary and Loudness Monitoring.
MADI License - customers will be able to Mix, Monitor and Measure up to 128 MADI sources on the SAM-Q-SDI.
Download the Latest Software Release


MPA1-SOLO-SDI and MPA1-MIX-SDI - Compact and cost-effective
At just 100mm deep, the MPA1-SDI is specifically designed for use where operators need confidence monitoring for SD, HD and 3G SDI infrastructures. With powerful user features accessible via the web UI, the MPA1-SDI is simple to use and flexible enough to meet specific and demanding workflow requirements.
High quality audio monitoring of SDI, AES and Analogue audio sources.
Built in web server allows remote configuration, control and monitoring over an Ethernet network.
High quality internal loudspeaker system
SNMP control allows for tight integration with TSL TallyMan and 3rd Party Control Systems
Free software updates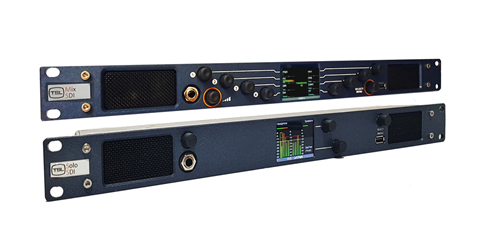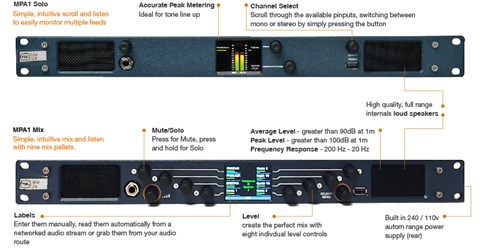 ---
Technical Specs
2 x 3G-SDI Coaxial Inputs
1 x AES3id Coaxial Input
1 x Balanced Analogue Input Pair
1 x 3G SDI Output (with Embedded Audio)
1 x Balanced Analogue Output Pair
---
MPA1-MIX-SDI
Fast and intuitive stereo monitor mixing of up to 8 SDI Embedded Audio Pairs, AES and Analogue audio pairs
Quick store and recall of up to 16 monitor mixes
Source Label and Monitor Mix Label display
View the MPA1 Mix SDI
---
MPA1-SOLO-SDI
Fast and intuitive scroll to listen operation of any chosen audio pair.
'Zoom View' of any audio pair including Audio Phase Metering
Source Label Display
View the MPA1 Solo SDI
SEE ALSO: MPA1-SOLO-IP
Whether monitoring redundant SDI  infrastructures or redundant IP networks,  the MPA1-SOLO-IP provides confidence  monitoring without compromise.
View Product Here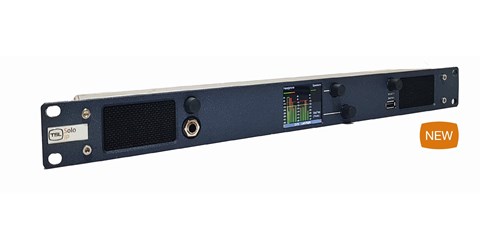 PAM Range - THE ULTIMATE MULTI-CHANNEL MONITORING TOOL
For customers working with traditional infrastructures, the PAM-MK2 audio monitors provide the same interface and operational experience as the PAM-IP, including comprehensive loudness monitoring and Dolby Decoding capability.
Loudness - Comprehensive loudness monitoring with EBU and ATSC standards and Loudness Histogram display
Fully configurable analogue and digital multichannel outputs - Route any audio channel to any monitoring output with Native 5.1 aware with Downmix function.
Configurable SDI Output with quadrant display
Full support for Dolby E®, Dolby Digital® and Dolby Digital Plus® - Monitor Dolby E line position and Dolby CRC error (Optional)
Dual high resolution screens for 16 bargraphs, setup and metadata display.
4 AES (4 Pairs/8 Channel) Inputs– 110Ohm Balanced or 75Ohm unbalanced via optional CAB-D25-BNC cable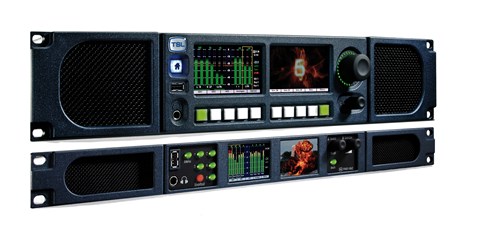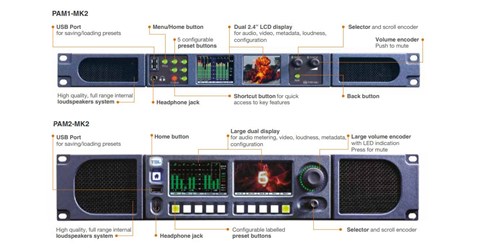 ---
PAM1-MK2 Specs
Compact, lightweight (weight tbc) 1RU case, 250mm deep
Dual high resolution 2.4″ screens for 16 bargraphs, setup and metadata display.
2 Analogue Stereo Inputs
1 x SD card slot for system updates and preset save/recall 'Scroll To Hear'
View the PAM1-MK2
---
PAM2-MK2 Specs
Fixed or variable analogue multichannel outputs (8 mono)
2 Analogue Stereo Inputs
SMTPE2020 metadata monitoring
Compact, lightweight (weight tbc) 2RU case, 250mm deep
View the PAM2-MK2
---
Dolby Option
Full support for Dolby E®, Dolby Digital® and Dolby Digital Plus®
Monitor Dolby E line position and Dolby CRC error.
SMPTE 2020 support.
Audio delay.
View Dolby Products >

From the Insights Hub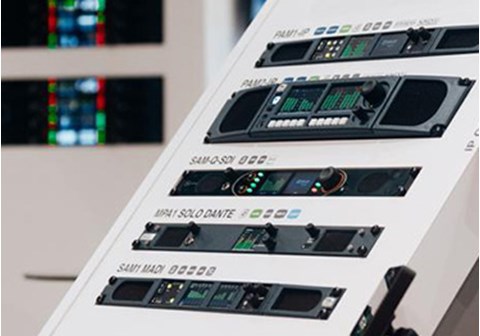 Audio Monitoring is Evolving
Read more >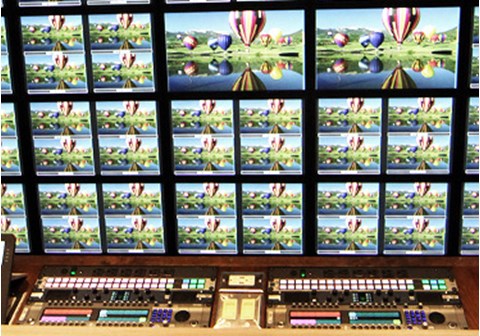 Audio Monitoring for OB Trucks
Download the Free Ebook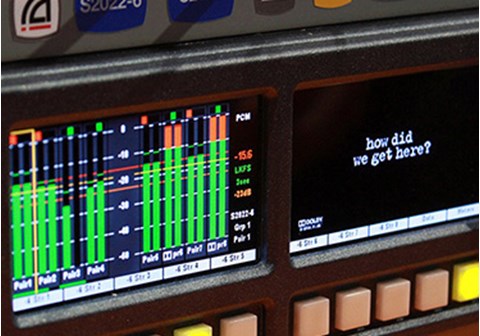 Customer Focus - NEP UK
Read the Case Study >