Power Management Solutions
Systems managers are increasingly faced with guaranteed up-time targets across diversely located equipment facilities. In today's cost-conscious and environmentally sensitive world, they may now also be required both to streamline maintenance and support teams, and to minimise energy consumption.
These challenges call for a comprehensive solution that – working remotely over wide or local area networks – can provide both monitoring and control of systems, and effective power management. Intelligent Power Distribution Units from TSL Products provide just such system management and power distribution capabilities. Intelligent, intuitive and already well proven in the global market, TSL's PDU enable systems managers to monitor and control all rack-mounted equipment anywhere in the world and to manage power requirements while reducing overall costs.
TSL Products' PDU are the result of the long experience in the field of TSL's System Integration business, which over 30 years has established an enviable reputation with numerous prestigious installations worldwide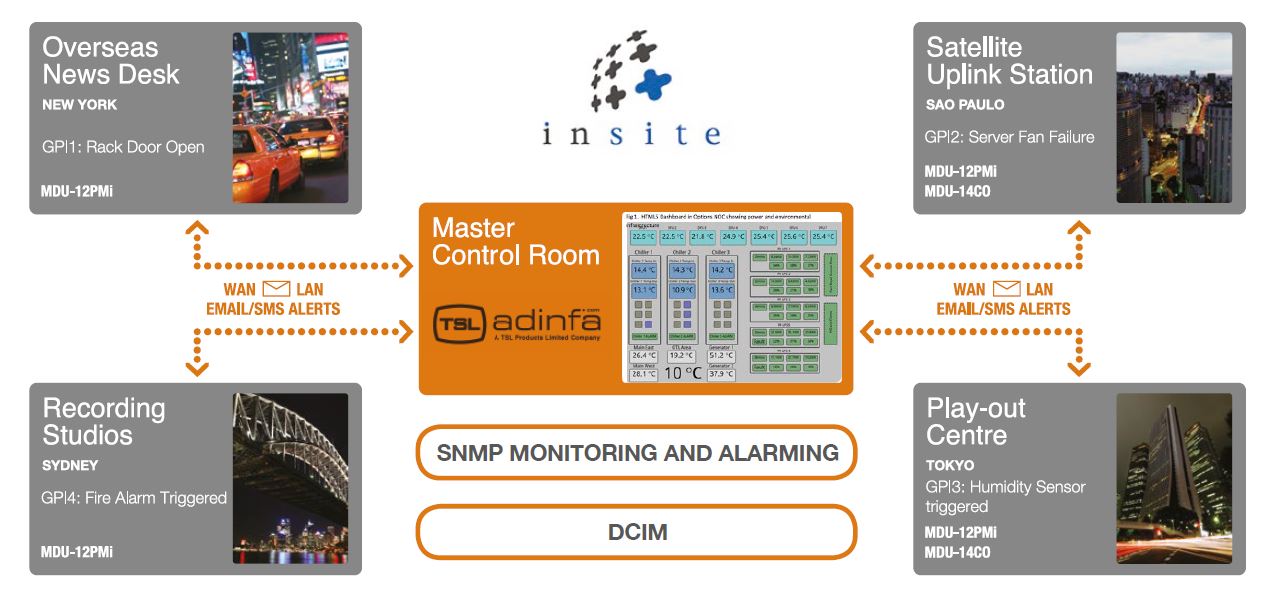 Monitoring
Equipment fuse status
Power consumption by outlet
Rack equipment GPIs
Rack temperature
Rack input voltage
Total power consumption
Power source, main or backup
Comprehensive Information
Email and SMS alerts for system failures
or in case any pre-set variable is breached
Real-time status information
Industry standard SNMP alarm protocol


Multiple Remote Actions
Re-boot individual equipment, rack, or
complete facility
Alert local maintenance, accurately describing
fault and rack position
React to equipment failure by re-routing
signals
Manage and track energy consumption
React to power outage
Centrally power down facility for out of
hours working
Configure PMUs