FlashBoard - Technical Display System
Flashboard is a cost-effective and highly customisable display system that provides critical information at point of use, for display on monitor walls or distributed wirelessly to tablets.
Built on 20+ years of broadcast control experience, Flashboard helps to better coordinate and organise production workflow, delivering essential operational information and replacing separate clocks, cue lamps, production timers and printed paper within a unified system. This means a more efficient workflow with fewer opportunities for error.
Modular – grow the systems as your requirements increase.
Quick setup – simply plug in to your network.
Dynamic display – show multiple actions on one screen.
Customisable – easy to design and configure.
Interface – compatible with TallyMan and third party control systems.
Pre-prepared designs - achieve the perfect match for your needs.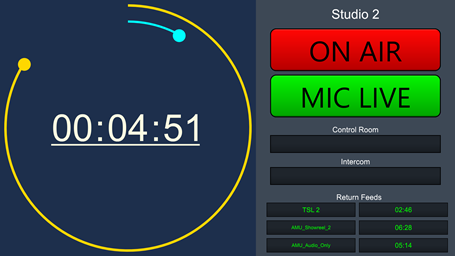 Clocks and Timing
Accurate time keeping is essential. FlashBoard can display clocks, multiple time-zones and up/down timers, while keeping all the devices on your network synchronised using NTP.

Information Display
Customised layouts can be shown on any connected display interface. Customised information display can include On-Air lamps, tickers, control interfaces, webpages, signage and branded media.
Integration capability for advanced control
Flashboard can work standalone, or as part of an extended advanced control system delivered by TallyMan or third party interfaces to manage status and alarms, dynamic studio information and much more.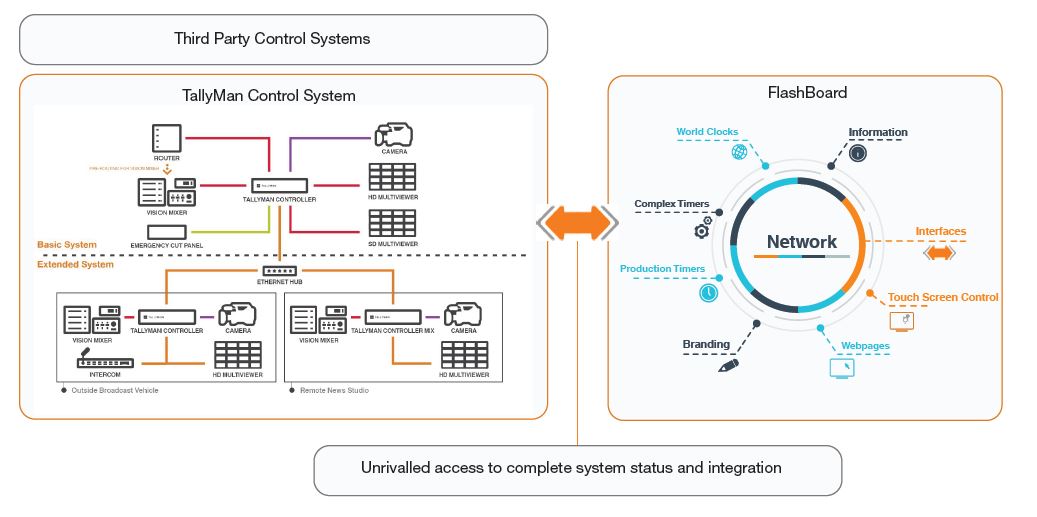 For use in television broadcast applications...

...as well as Radio, House of Worship, Theatres, Conference Centres, Industrial Process Monitoring, Command and Control Centres and Smart Buildings.