The Power Behind Sustainability
FEED Magazine – Autumn 2023
Intelligent PDUs, combined with rack equipment and infrastructure alarming and monitoring, are offering a new perspective on power management
Broadcasters can cost-effectively monitor and manage power usage across facilities with InSite, TSL's proprietary software standards-based monitoring, reporting and alarm notification UIIM (universal intelligent infrastructure management) system that runs in-browser. Its configurable, virtualised infrastructure management system can remotely monitor multiple facilities wherever they are located.
It is non-vendor-specific to avoid vendor lock-in. When combined with TSL's new intelligent power distribution unit (PDU) range, it can also facilitate a reduction in power usage and cost by as much as 30%, thereby supporting sustainability goals and compliance requirements.
"For many years, TSL has had a range of PDUs and also a DCIM software solution, both of which were primarily purchased as risk mitigation tools," says TSL CEO Matthew Quade. "In terms of surge protection, all of our PDUs have individually fused outlets, meaning if one item goes down, the rest of the equipment is protected and stays up."
Staying aware
InSite discovers and connects to IP devices and, over SNMP or Modbus, harvests and displays both control and alarm status. Alarms and notifications are delivered via email or SMS. 
"What's really changing now is that combining these tools gives you quite a powerful sustainability story," adds Quade. "There are a whole range of standards and directives emerging around power usage.
"In broadcast, whether utilising existing on-prem racked hardware, or looking at migrating to the cloud or hybrid, you are using significant amounts of power in what the guidance and coming regulations will consider to be data centres. As a result, standards like ISO 30134-2 about the power usage effectiveness (PUE) of data centres – specifically targeted around contributing to the UN's sustainable development goals
9, 11, 12 and 13 – will apply to you.
"There is an EU code of conduct on data centre energy efficiency," continues Quade, "which is currently best practice guidelines, but is anticipated to become a set of directives. There is also the Albert Studio Sustainability Standard for productions, particularly relevant to TV and film companies and the broadcast industry. The key measure is around the carbon footprint of a production – and power usage is important here, possibly the number one element in that carbon footprint. 
"Broadcasters need to be aware of these regulations and guidelines, especially as a lot of installations will fall under data centre regulations. If you have a server room big enough, it's considered to be a data centre."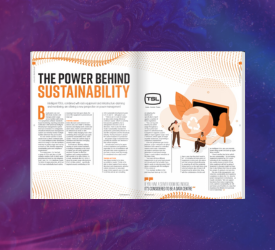 Taking action
Two things needed to be done, according to Quade: "Firstly, to be able to report against these various directives and requirements, whether carbon emissions or raw power usage. InSite supports you to be able to do that and we are consulting on adapting the dashboards specifically to report against a number of these regulations. 
"You can log and record your power usage throughout a 24-hour period and report it to whichever body is required. It supports a user's ability to report against Scope 1 and 2 emissions, which again, for larger or public businesses, is becoming a compulsory requirement."
From the greenhouse gas (GHG) protocol, Scope 1 emissions are direct emissions from owned or controlled sources and Scope 2 emissions are indirect emissions from the generation of purchased energy. Scope 3 covers indirect emissions in the value chain.
"You have all these different requirements to get your head around as a broadcaster. But actually, if you want to work at reducing power, that's where combining with the intelligent PDUs comes in.
"For example, facilities in the past may have been up 24/7, 365 days a year. But they don't need to be – or certainly, not every piece of equipment in every rack. But unless you had someone physically going in, powering off and then powering things back on at the right times, your only real solution was to leave it all powered up the whole time. Now, with the combination of InSite and an intelligent PDU, you can remotely power things down and back up again when needed. 
"There's another key factor, which ties into sustainability – by not having equipment powered up 24/7, you're extending its life. Invariably, you're also saving money in terms of how often equipment will fail, by giving it downtime it otherwise might not have had. It also follows that if you are using less power, it's going to cost you less.
This mix of risk management, cost reduction, sustainability and regulatory compliance is where the TSL story for power management is developing – as Quade concludes. "We can support transitions that reduce engineering costs, optimise sustainability, de-risk and future-proof facilities in a way that maximises the lifetime ROI and total cost of ownership." 
Originally published in the Autumn 2023 issue of FEED.
Discover TSL Power Management Systems.